Quick setup
Optional [save-time]:
Head over to the Essentials section to quickly setup your best browsing experience.
Intro
Most used application
The internet browser is the most used application across computers. Every desktop computer, laptop, smartphone and tablet comes preinstalled with one. There are many browsers out there for you to choose, they all have their different advantages and disadvantages.
Who has time to compare?
It's no question that choosing a browser takes time, experience, knowledge and all that good stuff. Unfortunately most of the users do not have either of those traits when it comes to this topic.
This is why I wrote this guide for you, so you don't have to waste your time to find out what's the best all-around-deal for you. Get your browser setup while reading this guide for the best browsing experience. Isn't that what we all want?
My Experience
I've always been on the hunt for the best browser. For at least 10 years I've been testing out the latest browsers, their functions, their different extensions or addons, home pages, speed, security, ads, etc...
You want to know why? I like to customize my stuff as well as not having to wait. We all have better things to do than watching pages load slow as well it's pretty frustrating.  
I can fairly say after almost trying every single one of them, as well as non-popular ones that I have the proper experience to write a guide on browsers. So let's continue!
The browser
I'm not going to make a comparison between all the browsers as there are many articles out there that will provide much better statistics than I would. I will compare Brave and Firefox in the slightest way as Firefox has been the best all-around-browser for a very long time in my opinion.
---
The winner: Brave
I've never been so satisfied of my browser experience ever since I replaced Firefox with Brave.  For those who don't know, I was using Firefox because Google Chrome uses a lot of RAM and is slower. Which is the reason I kept holding on to Firefox for a very long time.  
Speed ⏱️
Firefox is still the fastest one out there when using no ads, but brave has better security and the option the not show ads at all, which makes it faster than Firefox out of the box. Although Firefox is faster, when using at least 5 extensions and having at least 5-10 tabs open all the time, Brave scores a lot better on speed in my experience. Also you would need an add-on to block ads which slows your browser down, while Brave has it built in.
Security 🔒
When search for "Brave vs Firefox" you will definitely come upon a page of Mozilla telling you that Firefox has better security than Brave. Unfortunately that's not true and you never should believe biased articles. They both have different unique functions when it comes to security. Some will say one has the upper hand, some will say it's a draw.
Brave has a built-in Tor browser for private browsing, isn't that awesome?
It's needless to say that both have an excellent security and for most end users, the difference won't even be noticed.
Chromium
Brave is a chromium browser, which means you can use the Chrome Web Store with all its extensions. The best experience for extensions or add-ons goes to the Chrome Web Store for its most availability and widest use on the internet.
Chromium is a free and open-source software project developed by the Google-sponsored Chromium project. The source code can be compiled into a web browser. Wikipedia
Design 🎨
I always feel like customizing, but Brave has a great design out of the box. The settings page is very nice as well. You can choose between light and dark. The less you need to customize, the faster things will go, so this is a big plus for me.
Rewards 💰
You can receive rewards by not blocking your ads. These rewards are in the form of BAT, which is a cryptocurrency. You can even connect a crypto wallet to your browser and withdraw your earned BAT to your bank account.
You can control every aspect of Brave Ads — from the number of system notifications you'd like to see, to whether or not you want to hide sponsored images. You'll earn 70% of the ad revenue that we receive from advertisers. In exchange for your attention, you'll accumulate tokens as you browse. You can contribute these tokens to the sites you love — with more options coming later. Brave Rewards
Install Brave
The installation process is pretty straight forward, so I won't cover this. I'll cover the browser settings in the next section.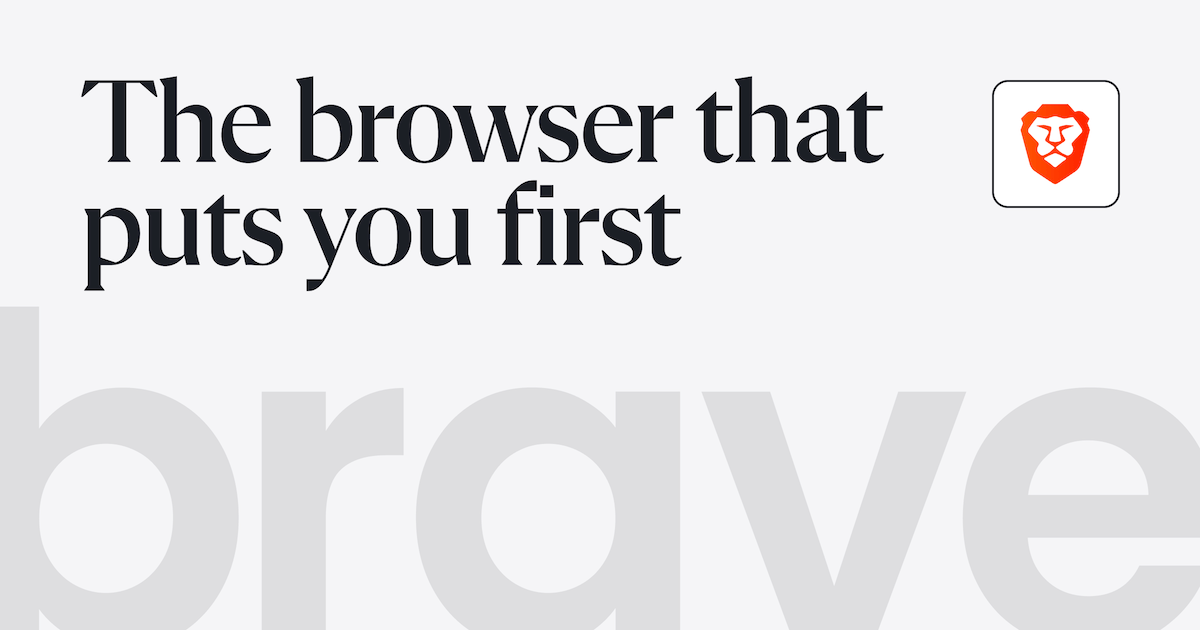 ---
Brave tricks
Browser settings
I will quickly go through all the useful settings that might boost your browser experience.
Open your settings by navigating to:
brave://settings/
Under Get Started you fill find the following option:

Enable the middle option as in the example so you don't get frustrated like I did many times before. When your browser crashes or you accidently closed your browser, it will continue where you left off when reopening.
Under Appearance you will find the following options:

Enable these for a faster browsing experience.
Under Search engine you will find the following options:

DuckDuckGo is an awesome search engine. It provides the best privacy and you can customize the look and feel without Stylish. More on DuckDuckGo later in the article.
Under Privacy and security you will find the following option:

Since DuckDuckGo doesn't save any information, you can safely select this option.
Under Privacy and security then Security and then Advanced you will find the following option:

Select the With radio button and select Cloudflare from the dropdown menu. When exiting the menu check again if your settings have saved within the Security page as it did not for me the first time.
Cloudflare is designed to be both faster and more private than other DNS services. It also allows you to avoid censored websites that your country may block.
Each computer or mobile device—known as "nodes"—temporarily stores a piece of a website's data. So whenever you access a website via IPFS, you're loading the data from other nearby nodes on the network. Learn more
Quick Search
To perform a quick search we can use a keyword, then press "tab", type in some search words you would like to search for on that website and press enter. Instead of going to the website, it will automatically take you to the page with your search words.
Let's bring this into action with an example. Go to "Search engine" in the settings and then go to "Manage search engines".
Create a new default search engine. Give a name to the search engine, I used "YouTube". Then put in a keyword, I find it practical to use the url as we have previously setup autocomplete, we can now partially enter in the keyword to have it triggered.
Now for the Query URL we need to find out how the url is outputted in the browser when searching for a keyword. Say I look for the word "test" on YouTube, the url will look like this:
https://www.youtube.com/results?search_query=test
We now need to replace "test" with "%s" which stands for the search words we'll use to output.
Type the first few letters of YouTube in the address bar, where you would normally browse for YouTube. Press tab to autocomplete youtube.com (this is the keyword) to start the quick search. You have now opened the quick search. Now type in your search keywords you're looking for and press enter to perform your search on YouTube.
You can do this for all of the search engines listed.
---
DuckDuckGo
DuckDuckGo is an internet search engine that does care for your online privacy. Are you tired of being creeped out by getting tracked all over the internet? Let me briefly explain why you should move over from your current search engine to DuckDuckGo.
Privacy 🔐
Most of you are probably using Google, Bing or even Yahoo right now , unfortunately you may or may not know that all of these search engines share private data with the websites you are visiting through your searches. This is how you get tracked all over the internet. This is how algorithms may psychologically force you to buy things you normally wouldn't.
Most of the trackers are run through Google ad networks, where they let advertisers target you against your search history, browsing history, location history and other personal information they collect. Even less well known is they also enable advertisers like airlines to charge you different prices based upon your personal information. Learn More
"Private" or "Incognito" Mode 🕵️
Sadly this is pretty misleading in terms of privacy. Most people don't know, but you are getting tracked whilst in this mode.
When you are using Private Mode in Brave (ctrl+shift+n) it will automatically ask you to search with DuckDuckGo. Don't be fooled and switch over to DuckDuckGo.
Customization 🖌️
There's tons of customization options. From actual features to theming it exactly as you want without using Stylish. If you don't know what Stylish is, check out my previous guide.
I for example am using a widescreen. For Google searches I always have to look at the left side of my screen. There's an option in DuckDuckGo that you can place it in the middle and wide instead of limited. I also modified the colors to my liking.
---
Pocket
Pocket is a web application and has a browser extension. It let's you save web pages in the form of an article to read it later and save it with a chosen tag to easily categorize your read-it-later articles.
Create an account or simply signup using the available services, customize your panel to your liking.
Install the browser extension to be able to save pages directly with a click or keyboard shortcut.
Click on the extension Pocket icon and your page will be automatically saved. You can choose a tag or leave it blank to categorize your article to find it back more easily.
If you can't find your extension, you might want to sticky it first. Find the Extension icon next to the hamburger icon in the top right upper corner of your browser right under the X to close your window. Make your extension sticky so you don't have to open the extension menu every time in order to click it.
---
Thank you
Congrats, you made it till the end!
You've got everything covered now. I aimed to be detailed without going overboard with this guide. Now that you have everything set up, you don't have to worry anymore about your browsing experience.
---
Thank you for reading my guide and good luck browsing!
---
Essentials of this guide
You came here just for the essentials to get yourself the best browsing experience in no time? I've got you covered, follow these sections of the article: